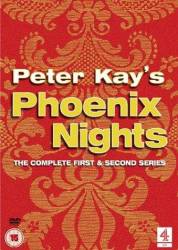 Trivia: If you watch throughout the entire series when Brian Potter calls people on their mobile phone. The display name is IRONSIDE. This is actually a reference to an American detective who was in a wheelchair, played by Raymond Burr.
Scrappy
Trivia: There are a lot of running jokes that Peter Kay uses, if you have seen his two live shows then you will have heard 'Garlic bread?' and 'Cheese cake?' in the first episode of series one they use the same joke for 'Head sets?' also the 'I said ping pong balls, not King Kong's balls.' is used in series two, as well as Kay's second live show.
troy fox
Trivia: When Brian goes to Blackpool, we seem him in his wheelchair next to some tram tracks, moving towards the camera. There is some flowers and a note saying 'In Memory of Alan', then a date, something like 07.11.1989. This is a reference to a Coronation Street character, Alan Bradley, who died after being hit by a tram in Blackpool.
Trivia: Spencer can be seen throughout both series. He plays the unknown DJ in series 1, episode 1, and later as part of the drama group in series 1, episodes 4-6. He then, of course, plays barman Spencer throughout series 2.
Trivia: When Brian is dating Bev, she sends back the pearl necklace when they break up and if you look closely at the return address on the back the name is "Beverly Hilscopto", AKA: Beverly Hills Cop II.
troy fox
Other mistake: At the start of the line dancing scene where Ray Von is deejaying, if you have the subtitles on, it says the song is Hillbilly Rock, Hillbilly Roll by the Woolpackers. It's actually 5,6,7,8 by Steps. (I'm quite embarrassed I know that).
More mistakes in Phoenix Nights
Brian Potter: Don't talk to me about upper body strength, Lesley! My forearms are massive.
Les: An' we all know why that is don't we? Too much "Trumpet Polishin'"
More quotes from Phoenix Nights