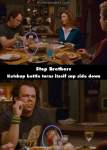 Continuity mistake: The bottle of ketchup in the dinner table scene, early in the movie, alternates from right side up to upside down, from shot to shot.
00:08:45
Jeff Swanson
Continuity mistake: After the first dinner scene with the family, Dale finally decides to leave and head upstairs. He places his napkin down next to his plate. In the next shot it has vanished. It then reappears a few shots later.
00:10:15
Hamster
Continuity mistake: At the Catalina Wine Mixer, Brennan Huff's voice breaks the large glass/ice helicopter sculpture. A few moments later, his step father is clapping and the helicopter sculpture is visible behind him.
01:22:45
Continuity mistake: In the dinner scene where Derek is over, he is telling a story to Robert about fishing. During the whole scene if you watch Alice who is sitting beside Derek, her wine glass repeatedly jumps from her hands to back on the table instantly.
00:24:50
Hamster
Continuity mistake: After arriving to the new house, Brennan is seen in the car as Nancy and Robert talk to the neighbor (Don). Brennan's arm is seen up holding the handle on the interior of the car near the window then down between each shot.
00:06:05
Join the mailing list
Addresses are not passed on to any third party, and are used solely for direct communication from this site. You can unsubscribe at any time.