Factual error: A video is shown of Derek Huff singing "Ice Ice Baby" at a school talent show that took place when his brother Brennan was 17. Robert states his desire to retire in "in two years," in 2010, making the movie's setting 2008. Brennan is 39 in the film, placing the talent show 22 years ago in 1986. The song "Ice Ice Baby", recorded by Vanilla Ice, came out in the summer of 1990.
Add time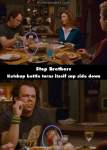 Continuity mistake: The bottle of ketchup in the dinner table scene, early in the movie, alternates from right side up to upside down, from shot to shot.
xx:xx:xx
Jeff Swanson
---
---
Dale Doback: Oprah, Barbra Walters, your wife. You gotta fuck one, kill one, and marry one, go!
Add time
---
Question: During the end credits when they are fighting the school kids, and they do the slow motion kick with the doves/pigeons flying, are they paying tribute to John Woo or Charlie's Angels?
---
---
Join the mailing list