Revealing mistake: The Gremlin who throws the beaker full of acid has his arm operated by a stick, which is visible as he chucks the beaker. (01:08:05)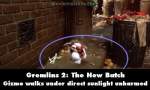 Other mistake: Gizmo can't be exposed to sunlight, yet when the shop is demolished he walks out on the street. Note how he is walking past the shady part of the curb to the sunny part, suffering no harm whatsoever.
Sacha
Continuity mistake: When Marla is trapped in the web, she either has a huge web in front of her, or nothing at all, depending on which angle is focusing.
Sacha