Beware Greeks Bearing Gifts - S1-E12
Visible crew/equipment: As the people of Troy are about to be attacked by the warriors in the horse, the camera pans up to the side of the wall where Deiphobus is talking with another soldier. You can see a crew member crouching down behind them wearing a white and grey shirt. (00:30:35)
Jack's Revenge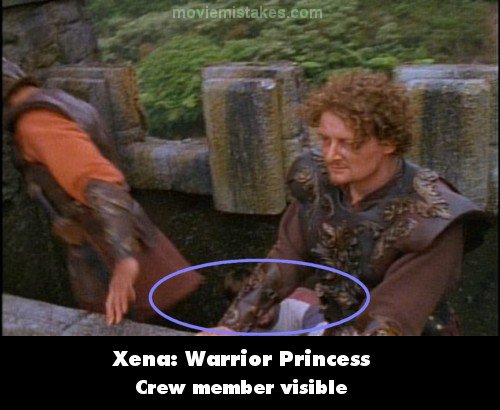 More Xena: Warrior Princess mistake pictures
Deliberate mistake: During the civilian sheriff's pursuit of the Navy car, the sheriff is occasionally visible in the passenger seat of his patrol car instead of the driver's seat.
Cubs Fan
More JAG mistake pictures
Night of the Nearly Dead - S3-E7
Continuity mistake: In the scene where the old women are grabbing at Eoin at the front door in one shot the top pane of the window on the left of the door is broken and an arm is coming through it, in another shot the bottom pane is broken and the top one is intact and arm is coming through the bottom pane and in the very next shot the top pane is broken again and the bottom one is intact again. (00:13:05)
More Father Ted mistake pictures
Continuity mistake: During the wedding, there are flashes of the different people from throughout the story. In the one showing Lady Catherine and her daughter, in the first shot, Anne can be seen sitting very close to the arm of the sofa, but in the zoom out, she is further along.
Jennifer 1
More Pride and Prejudice mistake pictures
Burning Down the House - S9-E19
Visible crew/equipment: During the scene where Mimi has moved into the warehouse, Drew makes a comment about the TV having surround sound - as the camera pans over him you can see a crew member in the background adjusting a light.
mystiemyth
More The Drew Carey Show mistake pictures
Continuity mistake: After Quinn bumps his head, he touches the wound with his left hand and his watch is turned around so the face looking inward. In the very next shot, from a different angle, he resumes touching his head but the watch has turned around to the standard position.
Coconut
More Sliders mistake pictures
Continuity mistake: After Starling is beamed out of the limo, Rayne opens the door and escapes. The door is still standing open when the chauffeur starts the car. But in the reverse angle as he drives away, the door has closed itself. (00:20:10)
Jean G
More Star Trek: Voyager mistake pictures