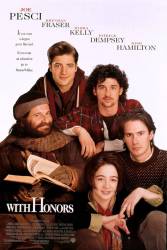 Continuity mistake: On the scene when Monty (Brendan Fraser) is talking to his professor about his thesis, the professor puts his glasses on the desk, then turns his back to Monty, when he turns back around, he puts his glasses on the desk again.
Continuity mistake: The morning after Monte tells Simon he can't stay in the cellar because it's flooded, he goes outside to bring Simon his breakfast and his cast is on the wrong foot.
Continuity mistake: Monty (Brendan Fraser) was listening to Simon (Joe Pesci) tell stories about his bag of stones while standing on crutches. Simon offers to carry Monty's books, and Monty hands him the books, keeping his backpack on. In the next scene, they are crossing the bridge and Simon is empty-handed and the backpack is missing as well. (00:37:45)
Continuity mistake: I doubt that Brendan Fraser could have ran from their house to the Harvard Library, which is inside the main square, in such a short amount of time.
Continuity mistake: When Monte puts the book "Leaves of Grass" on the table in the library at the end, it shows a close up of the book. Next, it pans out and the book is no longer on the table.
Join the mailing list
Separate from membership, this is to get updates about mistakes in recent releases. Addresses are not passed on to any third party, and are used solely for direct communication from this site. You can unsubscribe at any time.