Best history movie mistakes of 2017
Please vote as you browse around to help the best rise to the top.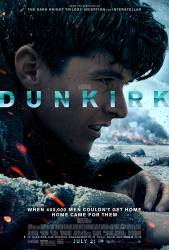 Video
Deliberate mistake: The me-109 have painted yellow fronts, this wasn't done by the Germans until after Dunkirk. Christopher Nolan has admitted doing this deliberately so the audience could tell the difference between the spitfire and the me-109 during the combat scenes.
More Dunkirk mistakes
Factual error: Robert McNamara is wearing a multi colored Polo shirt talking to Mrs. Graham in 1971. The Ralph Lauren Company did not make the shirts until 1972.
More The Post mistakes
Factual error: The underground station shown is not St. James Park, which would be 1 stop east on the District line. St. James Park has green and yellow tiles on the wall indicating District and Circle lines. The platform in the film has black and brown tiles, indicating Northern and Bakerloo lines, neither of which serve St. James Park.
Crusoe
More Darkest Hour mistakes
Factual error: When Mark Felt and the FBI Director are in a car on the way to the Watergate hearings in 1972 or 1973, from the car window, you see the WW2 memorial, which was built in 2004.
More Mark Felt: The Man Who Brought Down the White House mistakes
Continuity mistake: When the soup is about to be served, you see the horns blowing to introduce Victoria, and you can see all of the footmen lined up already with trays of soup, but in the next shot, it shows that they are just starting to march in to line up with their trays of soup. (00:10:45)
More Victoria and Abdul mistakes
Factual error: The accident takes place the night of July 18, 1969, and they show there being a full moon. That night the moon was actually waxing crescent with only 14% visible, and set at 10:27pm while the accident happened about 12:45am, so there was no moon in the sky anyway.
jimba
More Chappaquiddick mistakes
Join the mailing list
Separate from membership, this is to get updates about mistakes in recent releases. Addresses are not passed on to any third party, and are used solely for direct communication from this site. You can unsubscribe at any time.