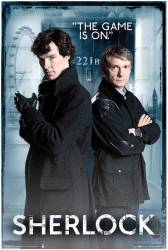 A Scandal in Belgravia - S2-E1
Sherlock Holmes: Punch me in the face.
John Watson: Punch you?
Sherlock Holmes: Yes, punch me in the face. Didn't you hear me?
John Watson: I always hear "punch me in the face" when you're speaking, but it's usually subtext.
More Sherlock quotes
More Blue Bloods quotes
Rick Grimes: This is how we survive. We tell ourselves that we are the walking dead.
Friso94
More The Walking Dead quotes
More Halo Legends quotes
J.J.: So far this guy's only attacked supers. So he must have known somehow that Katie has powers.
Katie: How? I didn't even know I had powers. And also, how the hell do I have powers?
Bishop73
More No Ordinary Family quotes
DSU Martin Schenk: I know men like you the way you know men like me, and I know you wouldn't have done this if you believed there was the least chance of it coming back on you. Well, guess what: it's come back on you like the Hand of God, and the next words from your mouth will determine the weight and velocity of the staggering tonnage of shit that's about to plummet onto your head.
More Luther quotes
More My Little Pony: Friendship Is Magic quotes
Spartacus: Sura and I often spoke of children. A family we were going to have now forever denied me. As I now deny Glaber of his.
Ilithyia: The child is yours.
Spartacus: You lie.
Ilithyia: Would then my tongue make false noise? It yet speaks bitter truth. Monthly blood ceased after you came to me in Batiatus' villa. Lucretia had promised Crixus - a cruel jest. Tis a memory that lingers, is it not? Of that night. Of you inside me.
Spartacus: Yes. As does memory of my hands around your throat.
More Spartacus: Blood and Sand quotes
More Justified quotes
Space Monkey - S1-E1
Karl Pilkington: But my thing with iPods is... Now do we need 'em? Know what I mean? We're living in that era now where we have invented most of the stuff that we need and now we're just messing about.
Ricky Gervais: They said that in 1900. Someone actually said everything that's to be invented has already been invented, they said that in 1900 and how wrong were they?
Karl Pilkington: No but what came out, what was invented in that year where they went, "Right that's it now."
Ricky Gervais: The 20th century. Think what happened in the 20th century.
Karl Pilkington: Go on.
Ricky Gervais: Well, planes.
Karl Pilkington: Yeah, but is that a good thing, planes and that? Do you need a plane really? Wouldn't it have been better if we all stuck where we should be instead of travelling about?
More The Ricky Gervais Show quotes
Nightwing VS Daredevil (DC VS Marvel) - S5-E12
Nightwing: What are you?
Daredevil: Better. (00:16:10)
Quantom X
More Death Battle quotes
Steve McGarrett: Let me ask you something. How deep did you have to dig? I mean, how much of your soul did you just lose by actually appreciating me?
Sammo
More Hawaii Five-0 quotes
More Rookie Blue quotes