Revealing mistake: Doug has the hologram when inside the alien nuclear reactor, and a bunch of bad guys encircle the holographic image and fire at it at point blank with automatic weapons, and not one bad guy gets hit. If they encircled the 3D image, at least a few bad guys would have been hit by their own men. (01:37:00)
More Total Recall revealing mistakes
Revealing mistake: When the scientists inject the mouse with poison, they put it in a jar. The, after they place it down you can see someone's hand swap the jar for one containing a dead mouse. You can even hear it. (01:17:58)
More Arachnophobia revealing mistakes
Revealing mistake: When the lawn mower the heroes send off as a diversion crashes you can see a wire pulling it. (01:01:30)
More Tremors revealing mistakes
Revealing mistake: When three of the turtles are playing trivial pursuit and the fourth runs in to announce Splinter is alive, you can see a wire coming out of Raphael's shell. I guess it's for the animatronic head but it's clearly visible. (00:59:30)
More Teenage Mutant Ninja Turtles revealing mistakes
Revealing mistake: At the end, when the train destroys the time machine, right at the moment when it hits you can see a small explosion, which was used to trigger the destruction of the time machine. (01:43:03)
More Back to the Future Part III revealing mistakes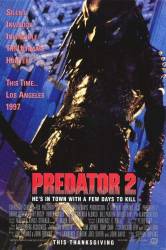 Revealing mistake: When Danny falls down from the ceiling, watch closely and you can see the security wire attached to his leg. (00:34:40)
More Predator 2 revealing mistakes
Revealing mistake: Just before RoboCop gets out of the car to walk towards the baseball coach, Lewis shoots at the coach and he jumps back. Watch carefully. Whilst jumping, his hat comes off slightly and you can see the make-up for the hole in his head, which he doesn't receive for a few seconds after this. Seen best in Slow motion on the DVD. (00:50:31)
More Robocop 2 revealing mistakes
Revealing mistake: The Gremlin who throws the beaker full of acid has his arm operated by a stick, which is visible as he chucks the beaker. (01:08:05)
More Gremlins 2: The New Batch revealing mistakes
Revealing mistake: When Strakk is firing the giant nail gun thing at Darkman during the climax, you can see that the gun firing does not always match the squibs going off on the beams behind Darkman.
More Darkman revealing mistakes
Revealing mistake: When Nelson first undergoes the experiment, the doctors use a small mask to put him to sleep. When he is supposedly waking up, Rachel asks Randy to help her with oxygen. He hands her the same small mask they used the first time ie. anesthetic. Just for a second she has a look on her face which says "this is the wrong mask" and she tries to hide it with her hand. For the whole rest of the film, the other doctors use a bigger mask when giving oxygen.
More Flatliners revealing mistakes
Revealing mistake: The Nazi doctor jumps out of the fortress from a 12 story window. The close-up of her feet landing reveals a jump from a very low place.
Sacha
More Captain America revealing mistakes
Revealing mistake: At the start of the film where West and Cain are re-animating wounded soldiers, one of them tries to kill West, so he shoots him in the head. It's obvious that West's gun doesn't fire and the soldier just acts like he's been shot.
More Bride of Re-Animator revealing mistakes