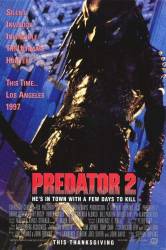 Other mistake: In the slaughterhouse scene, after Harrigan has injured the Predator with his shotgun and Keyes reappears, the Predator throws its disc, and severs Keyes in half at the waist. We see his legs flop to the ground, and blood pour from above, but his upper half (torso, backpack and weaponry) mysteriously remain hovering out of sight. (According to the director, the MPAA made him cut the footage of the top half of his body hitting the ground because it was too gory, creating this odd error). (01:21:50)
More Predator 2 other mistakes
Other mistake: At the carnival, you can see an African-American man staring at the camera for a while. I am unsure if he is a crew-member watching over the scene, or if he is just an extra trying to get onscreen.
More Darkman other mistakes
Other mistake: Irv and Blaire's death scene doesn't make sense. When Irv poured butter on the popcorn, he should've noticed the spider in the bowl. Also, when Blaire picked the spider up, she should've felt it. Both of them still appeared to be watching the TV after being bitten, which also didn't make sense. Why didn't they have seizures like the other victims?
More Arachnophobia other mistakes
Other mistake: No warehouse would stack their products in a labyrinthial way. They would be stacked in rows. (01:05:30)
Hamster
More Child's Play 2 other mistakes
Other mistake: In the scenes that take place in populated areas, there are never any people seen anywhere in the streets. Not even during the "high-speed chase" (where the thugs' car does not quite manage to catch up with Troy on his ten-speed bike) in the town do you see anybody.
More The Final Sacrifice other mistakes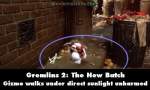 Other mistake: Gizmo can't be exposed to sunlight, yet when the shop is demolished he walks out on the street. Note how he is walking past the shady part of the curb to the sunny part, suffering no harm whatsoever.
Sacha
More Gremlins 2: The New Batch other mistakes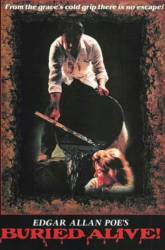 Other mistake: Driving down the highway, Zane spots an old, ugly woman. He swerved toward the right side of the highway. When they are done talking, he is seen leaving from the left side of the highway at the dirt.
More Buried Alive other mistakes
Other mistake: Before the Grand High Witch starts the meeting, Luke is watching the witches sit down, and he doesn't recognize the Woman in Black. This doesn't make sense because the Woman in Black attempted to kill him during the treehouse scene before any of them arrived at the hotel. The Woman in Black is even the first witch who tries to capture him when he runs on the stage.
More The Witches other mistakes
Other mistake: When Georgie is following the paper boat there is construction equipment on the road that he goes around, there is something burning there but it's pouring rain.
More It other mistakes