Best crime movie character mistakes of 1989
Please vote as you browse around to help the best rise to the top.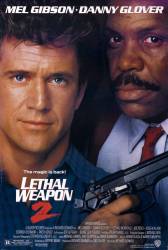 Character mistake: The sign Riggs holds outside the South African Embassy has a spelling mistake. The sign says "end apartheid now" but the word apartheid is misspelt as "aparthied".
mightymick
More Lethal Weapon 2 character mistakes
Character mistake: During the fight in the double deuce where Wesley brings Jimmy in to take all the bouncers on, Jimmy takes on Wade, and Dalton comes to his rescue. Afterwards Wade says to Dalton 'same town new story', when in fact the line should have been, 'new town same story'.
More Road House character mistakes
New this month Character mistake: The newspaper that reveals the combination of products that activates the Joker's poison has at least two grammar mistakes on the front page. The word "deodorant's" should not have had an apostrophe and the word odoreaters was spelled "odoureaters, " which has the British spelling of the word odor (Gotham City is obviously in the United States, not the UK). (01:17:10)
AD
More Batman character mistakes
Join the mailing list
Separate from membership, this is to get updates about mistakes in recent releases. Addresses are not passed on to any third party, and are used solely for direct communication from this site. You can unsubscribe at any time.