Best TV trivia of 1969
Please vote as you browse around to help the best rise to the top.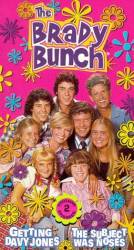 Snow White and the Seven Bradys - S5-E3
Trivia: The teacher being honored, "Mrs. Whitfield", was played by Frances Whitfield who was the on-set "teacher/legal supervisor/referee" for the kids during the show's run.
Jeff Swanson
More The Brady Bunch trivia
Trivia: Even though Doris Hare played Reg Varney's mother in the series, she was only 11 years older than him.
More On the Buses trivia
Trivia: The band "Toad the Wet Sprocket" took their name from a sketch on this show.
Grumpy Scot
More Monty Python's Flying Circus trivia
Trivia: Velma's famous line, "My glasses; I can't see without them!" was coined from her voice actress Nicole Jaffe when she lost her glasses during a recording session and then uttered of what became to be famous catchphrase of the bespectacled character. The writers liked the phrase so much that they decided to put the iconic scenes of Velma losing her glasses during the show.
More Scooby-Doo, Where Are You! trivia
Trivia: Even though Paul Lynde was the voice of the Hooded Claw, his name did not appear in the closing credits throughout the series.
More The Perils of Penelope Pitstop trivia
A Sentimental Journey - S1-E19
Trivia: When Jeff Randall goes to the "Glasgow Tenement" (just after the opening title sequence) watch the graffiti on the walls behind him. One piece of graffiti shows the "stick man" logo from "The Saint", over which is is written the words "IS BENT". This was an in-joke by the crew of Randall & Hopkirk (Deceased) as, at the time (September 1968) they were filming back-to-back episodes of "Randall & Hopkirk" and Roger Moore in "The Saint" at Elstree Studios - even to the extent of using the same props and scenery.
More Randall & Hopkirk (Deceased) trivia