Other mistake: There is a scene where a dead Indian warrior is discovered. In this scene he is covered by a large flat piece of stone. When they pull away the stone you can see his chest rising and falling as the "dead" Indian breathes. Much easier to see when viewed in HD.
More The Searchers mistakes
Revealing mistake: In the scene out West with the buffalo, notice the car driving in the distant background.
More Around the World in 80 Days mistakes
Revealing mistake: When the parted Red Sea comes together, if you look behind Pharaoh as his troops are being engulfed by the water, notice in the background that there are two boulders floating in the water, not being pushed, but floating lightly.
More Ten Commandments mistakes
Visible crew/equipment: When James Stewart tells Doris Day that he lied about the telephone call being from the hotel, Doris gets excited and James struggles with her on the bed. During that scene, you can see on the upper left corner a shadow of a microphone.
More The Man Who Knew Too Much mistakes
Continuity mistake: When they are dancing the king's earring is on his left ear then it somehow jumps across to the other ear.
More The King and I mistakes
Continuity mistake: In the final shot, just as the credits are rolling, the British warships are sailing away with the sun setting behind them. In an earlier scene the radio commentator says that the sun is setting and a shot of the sun touching the surface of the sea is shown.
More The Battle of the River Plate mistakes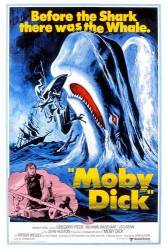 Continuity mistake: When Ishmael is in bed watching Queequeg looking around his room, his head rotates between shots.
More Moby Dick mistakes
Factual error: The opening scene of the movie shows William Pittenger receiving the first ever Congressional Medal of Honor, but in fact he was the fifth recipient.
Larry Redfield
More The Great Locomotive Chase mistakes
Continuity mistake: When Robert Wagner falls, halfway up the mountain, Spencer Tracy's rope, which is attached to Wagner, runs through his hands, making them bleed, but, finally, he gets a grip and he pulls Wagner up. As we see Tracy's rope, as it slowly comes up, but there is no blood on it.
kh1616
More The Mountain mistakes
Continuity mistake: When the Tartar princess Bortai is first shown, and throughout the first part of the scene when John Wayne and Pedro Armendáriz ride to check her out, she lies in a litter shrouded in shadows or perfectly lit, depending on the shot. (00:03:40)
Sammo
More The Conqueror mistakes