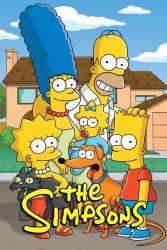 12 mistakes in show generally - chronological order
Video
Continuity mistake: When Maggie goes through the checkout at the beginning, Marge's trolley is grey and has a red handle. But in the next shot, when Maggie pops out of the bag, the trolley handle is turquoise. (00:00:30)
Hamster
Video
Continuity mistake: In the introduction, initially Maggie's seat is light purple. However, in the wider shot of her and Marge, the seat changes to a burgundy colour. (00:00:50)
Video
Continuity mistake: In the title sequence Mr. Largo has a baton in his hand when conducting. This disappears as he stops conducting to throw Lisa out. (00:00:50)
Ssiscool
Video
Continuity mistake: In the old main title sequence, when Homer gets out of his car, the door inside the garage is red, but when he is screaming and running towards it, it's now brown. (00:01:40)
JonTheRandom
Factual error: During the theme, the Simpsons' mailbox flag is on the wrong side of the mailbox. (Flags are always on a mailbox's right side, when viewed from the front. The one at the Simpson home is on the left side of their mailbox). (00:01:45)
Video
Continuity mistake: This is a mistake for the introduction from seasons 2-20 (1991-2009). When Homer screams, he turns round. You see this in a wide shot. There are no boxes to the right of the door in the garage. However, two just appear out of thin air when he runs through the garage. (00:01:50)
Video
Continuity mistake: When Bart leaves the school, you can see that his skateboard is green and perfectly flat. But when he is skating through the crowd and past the people at the bus stop, the skateboard has an orange stripe down the middle and is raised at the rear.
Continuity mistake: In the new opening credits (from Feb 09) when the camera is zooming into the bullies cutting the head off the statue Ralph Wiggum is nowhere to be seen, but when the head falls off, it lands on Ralph.
nuttytigger
Continuity mistake: In the bit where they sit on the sofa at the start of each episode, there is one rather long one where it starts off with the Simpsons dancing in a line, then gradually evolves into a circus with elephants and men dancing around fire. Look closely in between Homer's right leg and the dancing woman on his right. There is a pile of books on the little shelf underneath the lamp and telephone, and just as the camera starts zooming out from the line of dancing, the orange book on the left noticeably changes to purple.
Continuity mistake: On various occasions the front door, viewed from the inside of the house, has hinges - and therefore opens - on the wrong side, if you compare it to the shots of it from the outside.
He's My Brother
Continuity mistake: When the women of the neighbourhood throw Marge a baby shower because she's pregnant with Maggie, Ruth Powers is one of the ladies there. Ruth only met Marge when she moved to Springfield with her daughter in "New Kid on the Block" (Maggie was already born in the episode).
More quotes from The Simpsons
More trivia for The Simpsons
Join the mailing list
Separate from membership, this is to get updates about mistakes in recent releases. Addresses are not passed on to any third party, and are used solely for direct communication from this site. You can unsubscribe at any time.