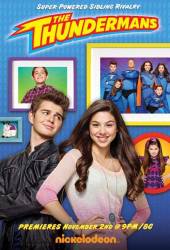 2 mistakes in Who's Your Mommy
Continuity mistake: When Phoebe and Max are tied together, the whip starts to cause sparks to fly in the the air. Then, a lightning bolt appears and Ellectriss (really Barb) pops up and says "shocked to see me?" and the whip isn't sparking anymore.
ryderpoints
Join the mailing list
Addresses are not passed on to any third party, and are used solely for direct communication from this site. You can unsubscribe at any time.