Trivia: Senator Grebleips, who appears when the Queen of Naboo speaks to the senate, is an alien from "E.T." making a cameo appearance. This is after Steven Spielberg ('Grebleips' is 'Spielberg' backwards) included some "Star Wars" references in "E.T."
Revealing mistake: When Qui-Gon, Jar-Jar, and Padme are eating at Anakin's house, Anakin's mum pours water for Qui-Gon. But when she gets to Jar-Jar, she tips the pitcher but no water comes out. (00:39:10)
Continuity mistake: Obi-Wan's braided hair keeps changing sides, and getting longer and shorter, most noticeably in the scenes around the underwater city. (00:13:40)
Continuity mistake: When Anakin attaches 3PO's right eye, one shot has the eye in his left hand, then the angle changes and the eye is being applied with the right hand. (00:37:20)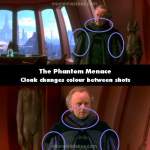 Continuity mistake: When Palpatine and Queen Amidala are conversing in his office (when Palpatine refers to Valorum having 'very little real power') his outfit switches from a green breasted cloak with a blue collar area to a green breasted cloak and dark green collar. It switches back after one shot. (01:23:10)
Revealing mistake: Qui-Gon's "comlink" is actually a Gillette Sensor Excel woman's razor. Borderline trivia, but it's such a recognisable shape with minimal effort to hide it. (00:50:45)
Trivia: During the scene in the senate, after the shot of a Senator calling for order, we see pods with aliens in them. Towards the lower left you can see a pod full of E.T's. There's also a pod full of Wookies making their traditional noises, played for the first time in 20 years by someone other than Peter Mayhew. (01:25:30)
Other mistake: In the ending credits, Keira Knightley's first name is misspelled "Kiera."
Cubs Fan
Continuity mistake: When the queen is being escorted by some droids after she has been captured, the shadows change completely. When we first see everyone walking past, their shadows stretch ahead of them, but when we see them walking towards Obi-Wan and Qui-Gon, the shadows are really elongated and at an angle. (00:21:30)
Continuity mistake: Sebulba snaps a bit off Anakin's pod and it is left dangling, however in the following scene where Sebulba is talking to Anakin, the part is back in its original position. (00:54:45)