Continuity mistake: In a scene near the end of the movie, George enters the Building and Loan with a Christmas wreath on his arm. On hearing that he has a phone call from his brother Harry, he tosses the wreath on a table and picks up the phone. In the next second, the wreath is back on his arm. (01:17:35)
Visible crew/equipment: When Mary leans across the drugstore counter to whisper in George's bad ear, there is a small piece of tape on the edge of the counter right in front of her hand, presumably to show the actors where to position themselves for the shot (the tape isn't visible in the other shots showing that same section of the counter). (00:06:55)
Continuity mistake: When George Bailey is going to jump off the bridge, watch the snow carefully. In one of the shots where Clarence is shouting in the water the snow all of a sudden quits, then it goes back to snowing when George jumps in.
Continuity mistake: When George first finds his brother's grave the death date is visible, but after arguing with Clarence he has to wipe snow from the base of the stone to reveal the date. (01:58:35)
Other mistake: In the scene on the bridge, before Clarence jumps, George's hands do not indent the 2-3" of snow on the rail. In a later shot, after George jumps, you see two snow-less spots on the railing.
Continuity mistake: During a confrontation between old man Potter and Peter Bailey at the Building and Loan, Potter's bodyguard stands behind the wheelchair on its left side. But in the close-up shot of Potter, the arms and hands of his bodyguard can be seen extending from the right side of the wheelchair. In the next full screen shot, the bodyguard is seen on the left side of the wheelchair once again.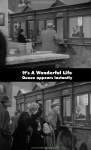 Continuity mistake: When Uncle Billy sees Potter in the bank, he walks to the teller window and there's no line, but a second later there's a line of a dozen or more people behind him.
Continuity mistake: When the pharmacist hits young George, the amount of blood coming from George's ear changes back and forth between long shots and close ups.
pinkwafer
Continuity mistake: The old man's cigar disappears when he sends young George to deliver a prescription.
Continuity mistake: In the scene after Bailey becomes nonexistent and they go to the bar, Clarence and Bailey are thrown out, but when they land they have switched positions. (01:50:20)
Other mistake: Clarence tells George that his brother died at the age of 9 because he wasn't there to save him from falling through the ice, but when you see the tomb stone, it shows Harry Bailey was born in 1911 and died in 1919. That would make Harry only 7 or 8 years old.
More mistakes in It's a Wonderful Life
More quotes from It's a Wonderful Life
Trivia: The opening credits list a copyright date of 1947, but distributor RKO rushed IAWL into theaters December 20 1946, to replace 'Sinbad the Sailor' whose Technicolor prints were not ready. It went into general release January 1947. The rush probably cost Capra and his partners their indie studio Liberty Films, whose first production opened in a record blizzard back east and failed to make back its money; it also wound up losing out at the Oscars against a powerful postwar drama 'The Best Years of Our Lives' rather than facing a much weaker Oscar field in 1947. Then again, confusion over its copyright date seems to have allowed it to slip into public domain for about 20 years from 1973, leading to its constant (cost-free) play at Christmas time, cementing its reputation as America's favorite holiday movie.
DougM
More trivia for It's a Wonderful Life