Continuity mistake: When Clouseau parks in front of the ministry of justice, he breaks the hood of two police cars. A few shots later, when we see him entering the building, only one of the cars is broken.
More The Pink Panther mistake pictures
Revealing mistake: The roller coaster used for the Devil's Flight is really the Corkscrew at Playland in Vancouver, where all three movies were filmed. If you look during the opening credits, you can see the name "Corkscrew" up in the lights above the coaster. After this, it says Devil's Flight during the rest of the roller coaster scenes.
More Final Destination 3 mistake pictures
Visible crew/equipment: When Steven Weber and Kelly Overton find Tom Skerritt's motorcycle in the desert a crew member is visible in the chrome that runs along the red gas tank.
More Desperation mistake pictures
Continuity mistake: After Eisenheim has disappeared, literally, from stage, Uhl and the policemen search his office. There, Uhl finds Eisenheim's notebook with the design of the locket in it. There is a large tear in the middle of the paper. It disappears when the inspector looks at it again after he has found the locket in the Prince's barn. (01:31:00 - 01:31:45)
More The Illusionist mistake pictures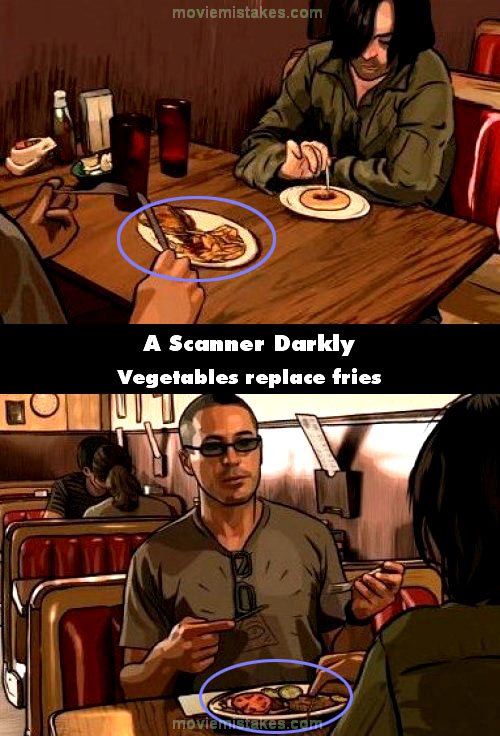 Continuity mistake: When Barris is served in the diner, french fries are scattered over his plate. When seen again, the french fries are replaced with vegetable sides.
More A Scanner Darkly mistake pictures
Continuity mistake: In the scene after the bus rolls down (when they are at the beach), one of the girls is wearing a red bikini, but when she gets in the water it's black. (00:13:40)
More Turistas mistake pictures
Continuity mistake: In the shot where Mattie walks towards the toilet at her school, you can see there's a pencil in her hair pointing downwards. When she's inside the toilet, the pencil's direction and her hair have both changed.
More Pulse mistake pictures