Deliberate mistake: There is just too much movement and detail in the synthetic skin masks. Peyton lost a large portion of his face in the explosion, and cannot make much expression with his own face, but somehow he can make the masks move perfectly just like a real face.
More Darkman deliberate mistakes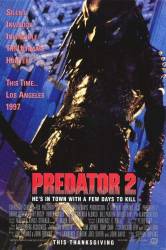 Deliberate mistake: When King Willie is confronted by the Predator in the alley the Predator approaches him cloaked stepping through the puddle of water. You can see his footsteps causing the water to splash up. However, you can see the water splash up and go through his foot. The Predator is only cloaked, not intangible so the water should have splashed upon his foot, not go through. Water against his foot would be visible too, even though he is cloaked. (00:47:45)
More Predator 2 deliberate mistakes
Deliberate mistake: The elevator operated by gremlins starts ascending at around 5 stories per second, based on the floor readings. Yet when the elevator suddenly stops dead, Kate does not fly into the air caused by the huge speed change. (00:50:05)
More Gremlins 2: The New Batch deliberate mistakes
Deliberate mistake: When Robocain tries to use his chaingun on Robocop and it isn't armed, he snatches the remote unit from the OCP psychiatrist. If you look carefully, the remote unit changes from real to animated as soon as he grabs it.
More Robocop 2 deliberate mistakes
Deliberate mistake: During the train sequence at the end of the film in 1885, it is blatantly obvious that the train is not going the speed that the DeLorean's speedometer is showing. In some shots, the train looks as though it is going little more than 20mph. (01:38:55)
More Back to the Future Part III deliberate mistakes
Deliberate mistake: While Cohagen is on Mars, he calls Richter and chides him for trying to kill Quade. Richter is in a car on Earth, yet they're having a real-time conversation, which is impossible because of the distance. [While this is true, a movie with 4 to 21 minute pauses between lines would take rather a long time].
More Total Recall deliberate mistakes
Deliberate mistake: When Casey is hiding behind the boxes waiting to knock out a Foot soldier and steal his outfit, you can see he is still wearing his denim vest. After he knocks out the Foot soldier, he is able to put on his entire outfit in roughly three seconds. (01:10:15)
Phaneron
More Teenage Mutant Ninja Turtles deliberate mistakes