Plot hole: Peyton had his face burned in the explosion. In fact, he basically lost his lips, so he should not be able to talk very easily. While he could probably learn to speak normally again through other movements with his mouth and tongue, he does so too quickly to make logical sense. And his uncanny ability to almost perfectly mimic his enemies could probably be learned over time, but again is too quick to make sense.
More Darkman plot holes
More Tales from the Darkside: The Movie plot holes
More The Final Sacrifice plot holes
Plot hole: When the clerk is scratching the lottery tickets for the robber, when he scratches the second ticket he only scratches off two out of three numbers on the ticket, but still says it's not a winner.
More Maniac Cop 2 plot holes
More The Witches plot holes
Plot hole: In the factory we see the machine that adds the hair to the Dolls it "punches" the doll at standing level. Andy hits the reverse button and they watch a doll go backwards. A few moments later Chucky appears on a cart and now the machine "punches" Chucky to the cart. 2 Errors -1 How did Andy and Kyle not see Chucky on the cart right in front of them. 2. What made the machine go low enough to stick Chucky to the cart.
More Child's Play 2 plot holes
Plot hole: When Sarah gets into her car she turns on her radio right away without turning on the car. Don't you need to start the car first in order to turn on the radio?
More Slumber Party Massacre III plot holes
Plot hole: Hayes continues his harassment by calling the police and provokes Drake into assaulting him. When the police come and sees Hayes injured, they take Drake away immediately without asking any questions or investigating. No law authorities would ever take away someone with mere assumptions or without investigating, regardless of a history of Drake trying to force Hayes out by shutting off the utilities. Completely unrealistic.
More Pacific Heights plot holes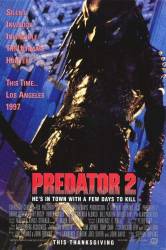 Plot hole: When Harrigan and Captain Pilgrim leave the head Captain's office after being told not to impede Agent Keys' investigation, Harrigan then spots Keys and goes and roughs him up, shouting and generally making a nuisance of himself. Pilgrim was only just behind him. Harrigan's actions have caused everyone else to be quiet, so it's not as if Pilgrim doesn't know that Harrigan isn't manhandling Keys, yet he does nothing to intervene, especially in light of the meeting the pair of them just left. (00:38:30)
GalahadFairlight
More Predator 2 plot holes
More The Dark Side of the Moon plot holes