Continuity mistake: Celine is opening her apartment door. The door-handle is on the left side. When they walk in and close the door, the door-handle inside is again on the left side.
Continuity mistake: While in the Cafe, behind Jesse there is a woman who receives a rose. The rose disappears and reappears in different places between shots.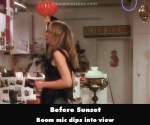 Visible crew/equipment: At Celine's apartment, just as she's dancing and telling Jesse that he's going to miss his plane, a boom mic can be seen at the top right of the shot.
Continuity mistake: At the very beginning, Jesse is in a book store during a Q & A sessions with a bunch of readers. In front of him on the table are some books and glasses. The position of the books change between close-up shots of him and further away ones showing the fans.
Continuity mistake: Jesse and Celine are sitting on a park bench, and he has his right arm behind Celine on top of the bench. The next shot is a front view and his arm is resting on his leg.