Best thriller movie mistake pictures of 2014
Pictures of the best thriller movie mistakes of 2014. Vote as you browse around to help the best rise to the top, and add your own! Show entries not limited by type.
Continuity mistake: When Blair asks Mitch "why aren't you answering me?" he says he got a weird message from Laura Barns. Blair replies "that's not funny" and Mitch replies "I'm serious." Then Blair gets a message from Laura, and when she switches back to Mitch's conversation, the last two entries, "that's not funny" and "I'm serious" have disappeared.
00:10:50 - 00:12:30
Mike Walker
Continuity mistake: When Harper meets Ryan, who's out jogging in the rain, for the second time to recruit him into the CIA, the hood on Ryan's jacket moves between shots, most noticeably in the very close-up shot of his face.
00:12:00
ployp
Continuity mistake: Just when John Wick puts the bracelet on the night table next to the phone near the start of the film, the time changes all of a sudden from 8 to 10.
00:04:00
jsalon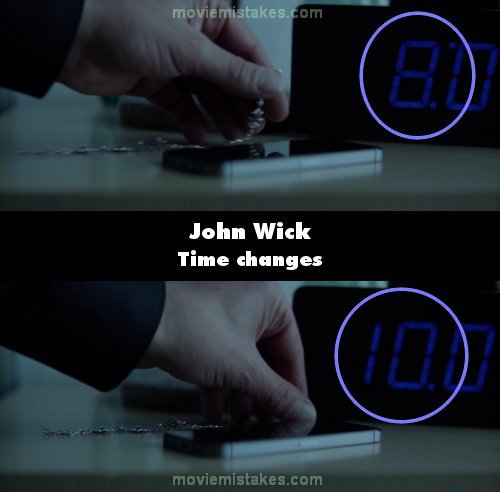 Other mistake: When Lady Liberty's head rolls down the street behind Ellen, Mora, and Polly, it's a very distinctive street and there's a large white storefront sign 'Aleva' over a green awning that they all pass. Then after they drive off in the truck they're driving down that same street, even from the same direction, with that enormous head still after them. Additionally, that building with the 'Aleva' storefront and its awning has simply vanished the second time around.
Add time
Super Grover
Join the mailing list
Addresses are not passed on to any third party, and are used solely for direct communication from this site. You can unsubscribe at any time.