Best mystery TV trivia of 2010
Please vote as you browse around to help the best rise to the top.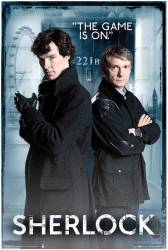 Trivia: Sherlock's parents are played by Benedict Cumberbatch's real-life parents, Wanda Ventham and Timothy Carlton.
Chitarra10
More Sherlock trivia
Trivia: Sharon Lawrence plays Sasha Alexander's mother in the series, even though in real life she's only 12 years older than Alexander.
More Rizzoli and Isles trivia
More Pretty Little Liars trivia
More Covert Affairs trivia
Join the mailing list
Separate from membership, this is to get updates about mistakes in recent releases. Addresses are not passed on to any third party, and are used solely for direct communication from this site. You can unsubscribe at any time.