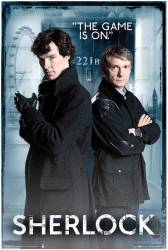 Continuity mistake: When Sherlock is backstage at the circus and finds the yellow spray paint, he draws a line on the mirror. In the next shot, the line he drew is completely different (and in fact is more of a squiggle). (01:07:40)
More Sherlock mistakes
Continuity mistake: On the video of Ian supposedly killing Alison, we see her arm fall to the ground with her "Alison" bracelet visible. But in a later scene where Emily watches Ian put his bag in the athletics room, we cut back to the video and Alison's arm suddenly has a sleeve covering up her bracelet. When we see the video again later in the series, her bracelet is visible again.
More Pretty Little Liars mistakes
Continuity mistake: Duke is wearing an extra shirt, and his hair is longer then it was, despite continuing the scene from the end of season 2.
More Haven mistakes
Episode #1.1 - S1-E1
Continuity mistake: Luther goes to see Zoe and the house is an end terrace with a red door. Later he goes back and it's mid terrace with a black door.
More Luther mistakes
See One. Do One. Teach One - S1-E1
Revealing mistake: When they find victim #2 in the woods covered in leaves, in almost every shot of her you can see her breathing - leaves moving up and down. In the closeup of her neck, you can see her swallow.
More Rizzoli and Isles mistakes
Revealing mistake: Episode 15, "Faceoff": When the agent fires the hook to get to the roof of the church, it does not reach the balcony. However in a following shot you can see the agent climbing there. (00:10:05)
More The Event mistakes
Continuity mistake: In the morning, Annie comes into the kitchen and says hi to her niece and nephew. Her jacket is alternately buttoned or unbuttoned. (00:39:30)
More Covert Affairs mistakes
Episode #2.3 - S2-E3
Continuity mistake: Jack and Georgina pull into parking spot next to another vehicle. In next shot, as they walk away from their Mercedes, there is no vehicle in the next spot with no time for it to have pulled out. (00:28:15)
More Vexed mistakes
Continuity mistake: In episode 3 or 4, one of the characters is knocked out and lying on the floor in the Russian sub. He is on the 'left' side of the shot most times he is shown, but occasionally he's on the right.
More The Deep mistakes