Best crime movie mistake pictures of 2006
Please vote as you browse around to help the best rise to the top.
Continuity mistake: At the start of the movie the hole in the back on Sean's car vanishes in some scenes. (00:04:05)
A Demon
More The Fast and the Furious: Tokyo Drift mistake pictures
Continuity mistake: When Clouseau parks in front of the ministry of justice, he breaks the hood of two police cars. A few shots later, when we see him entering the building, only one of the cars is broken.
Dr Wilson
More The Pink Panther mistake pictures
Continuity mistake: In the first scene in Giuseppe Baldini's perfume shop, his employee comes in and starts setting three candles in a candelabra. He sets them very straight and upright, however after we cut to Guiseppe asking if he knows of Amor et Psyche and back to the shot of the candelabra again, all three candles are wonky. This is more than simple gravity could have caused. (00:27:30)
Nik Rolls
More Perfume: The Story of a Murderer mistake pictures
Continuity mistake: After the scene with the pig gut pit, Jeff and the judge leave the room and the judge's clothes are suddenly not wet and almost clean. (01:17:15)
Jennifer30
More Saw III mistake pictures
Continuity mistake: After Costello smashes Costigan's wrist he hands all of the dollars he has in his right hand. A frame later money reappears in the hand.
Sacha
More The Departed mistake pictures
Continuity mistake: When Barris is served in the diner, french fries are scattered over his plate. When seen again, the french fries are replaced with vegetable sides.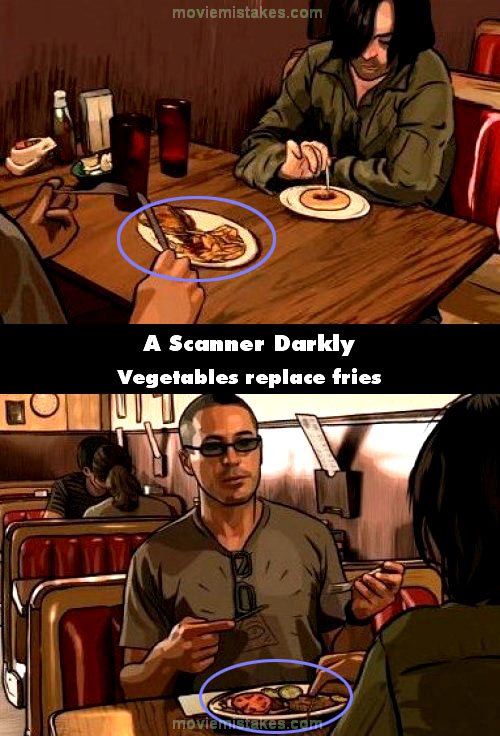 More A Scanner Darkly mistake pictures
Continuity mistake: During the last few scenes in the movie, when Hannah asks Jenny if she needs help with the plane, they knock knuckles together. When the shot is taken from behind Hannah, she is shown wearing gloves, but when the shot position changes to behind Jenny, the gloves magically disappear.
More My Super Ex-Girlfriend mistake pictures
Other mistake: When Bruce and Mos Def are running through the alley near the beginning, they run past a Chinese man who slams a dumpster lid shut. Once Bruce pulls out his gun to look back, that same man starts running because he gets scared. In the next shot, he continues running, but soon stops as if he thinks filming is over. This is visible right before the camera pans to the right.
manthabeat
More 16 Blocks mistake pictures
Join the mailing list
Separate from membership, this is to get updates about mistakes in recent releases. Addresses are not passed on to any third party, and are used solely for direct communication from this site. You can unsubscribe at any time.