Stupidity: After Julie tells Louis that Peyton is still alive, she notices the Bellisarius memorandum on his desk and realises he was involved with the destruction of the lab. If Louis had kept the memorandum in his desk instead of in plain sight, he would never have been found out.
More Darkman stupidity
Stupidity: During the final battle, Gomm kills one of the rednecks by sticking his tentacles into the man's eyes. However, the entire scene is shot very sloppily. The man has his gun trained on Gomm for almost 10 full seconds, and just stands there while the tentacles come out slowly, Gomm laughs, and then the tentacles shoot forward. Given the amount of mayhem and creatures, there's no reason for the redneck to have not just shot Gomm during that period of time.
More Nightbreed stupidity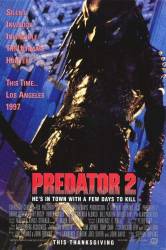 Stupidity: Harrigan leaves his partner's badge on his grave where anyone could take it and use it to impersonate a cop or abuse it in other ways. (00:50:15)
More Predator 2 stupidity