Character mistake: In one of the National Tattler headlines, the word "pursues" is misspelled "persues". (00:52:15)
Cubs Fan
More Manhunter mistake pictures
Continuity mistake: At the Policeperson's Dance, Copeland spills punch over the Commissioner's wife's white dress. As the camera view switches, her dress is already stained before she is splashed.
More Police Academy 3: Back in Training mistake pictures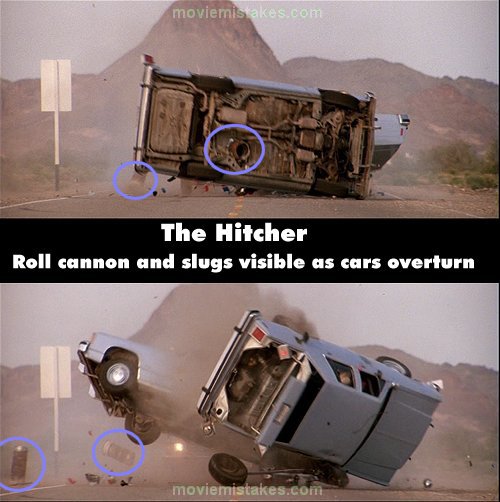 Revealing mistake: When Jim hits the brakes in his stolen patrol car, the two pursuing police cars turn and flip over and over. As they roll, the 'roll cannon' is visible on the underside of one of the cars (a round steel tube in a hole in the floor) and at left, the two cannon slugs from both cars bounce down the road. This device fires the slug downward, and the force behind it lifts the car when the slug hits the road, launching the car over.
More The Hitcher mistake pictures
Continuity mistake: When Max and Joey take a picture at Luigi's house, Joey is looking at the camera and not smiling while Max's hand is just below Joey's right ear, getting ready to grab it. When Max makes a copy of the picture later, Joey is looking away from the camera, smiling, and Max's hand is on Joey's shoulder. (00:50:50 - 01:14:40)
More Raw Deal mistake pictures