Best war movie mistakes of 1978
Please vote as you browse around to help the best rise to the top.
Factual error: The boys go deer hunting somewhere in the Appalachians, but the geology is all wrong. That scene is in North Cascades National Park in Washington State. In addition, the "deer" they are hunting is a Red Stag. Not typically found in the Appalachians.
More The Deer Hunter mistakes
Revealing mistake: In one of the river flooding scenes after the dam bursts, you can see a modern day vehicle (most likely a pickup truck) for a few seconds on a highway next to the river. (01:50:30)
More Force 10 from Navarone mistakes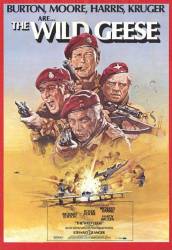 Revealing mistake: During the fight after Witty has been killed, Peiter throws a grenade that lands in a bush on the right of the path up which the enemy are advancing. However, the resulting explosion comes from the centre of the path and not as far away as the grenade flew.
More The Wild Geese mistakes
Join the mailing list
Separate from membership, this is to get updates about mistakes in recent releases. Addresses are not passed on to any third party, and are used solely for direct communication from this site. You can unsubscribe at any time.