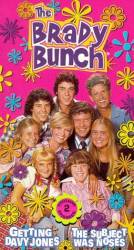 Audio problem: At the end of the show when Alice is blowing the whistle, the whole family comes to the top of the stairs. Mike says "Alice, it's 6 o'clock in the morning" Watch his mouth. It looks as though he curses and the (curse) word was dubbed out.
More The Brady Bunch mistakes
The Spanish Inquisition - S2-E2
Revealing mistake: At the very end when The Spanish Inquisition bursts into the courtroom, you can see that Biggles is not played by Terry Jones (as he is playing the accused judge in the court sketch).
More Monty Python's Flying Circus mistakes
Continuity mistake: Scooby finds a clump of ape hair stuck in the wine cask. It cuts to the gang, then back to the cask as they walk up and suddenly the clump of hair is twice as thick. (00:16:45)
Quantom X
More Scooby-Doo, Where Are You! mistakes
Visible crew/equipment: In the opening scene, when Inspector Blake informs Stan and Arthur that the 10:45 bus has arrived, the camera pans over to the door of the bus where another cameraman's shadow can be seen on the side of the bus.
More On the Buses mistakes
A Sentimental Journey - S1-E19
Revealing mistake: Dialogue in the episode specifically mentions the A2 and A282 roads near Dartford, Kent - the actual roads used were the A1 Barnet by-pass, Galley Lane and Well End Road. The error is revealed by the sight of a road sign that appears just as the Austin Princess Limousine turns on the the main road - the sign shows that the car is not turning on the the A2/A282 near Dartford, but the A1 at Barnet some 40 miles away.
More Randall & Hopkirk (Deceased) mistakes
Other mistake: The banner over the platform says "Miss Vestal Virgin 79 B.C.", when it was earlier announced several times as the 72 B.C. Vestal Virgin festival.
More Up Pompeii mistakes
Continuity mistake: When Dum-Dum cuts the rope releasing Chug-a-Boom from the balloon, we cut to the car and you can see Clyde and Dum-Dum are surrounded by the rest of the Ant Hill Mob, but when we see the two in the next shot, the other members are nowhere to be seen.
More The Perils of Penelope Pitstop mistakes