Best movie trivia of 1942
Please vote as you browse around to help the best rise to the top.
Trivia: Conrad Veidt, who played Maj. Strasser, was well known in the theatrical community in Germany for his hatred of the Nazis, and in fact was forced to hurriedly escape the country when he found out that the SS had sent a death squad after him because of his anti-Nazi activities.
More Casablanca trivia
Trivia: In the movie, Lou Gehrig concludes his farewell speech with the famous line "I consider myself the luckiest man on the face of the earth". However, in real life, he continued after this point. The last lines of his speech were "And I might have been given a bad break, but I've got an awful lot to live for. Thank you."
More The Pride of the Yankees trivia
Trivia: The Holiday Inn chain of motels, founded after World War II was named after this movie, not the other way around.
More Holiday Inn trivia
Trivia: A point of interest: The big battle scene at the end of the movie was reused for the beginning of the movie 'The Golden Blade', starring Rock Hudson and Piper Laurie.
More Arabian Nights trivia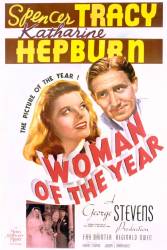 Trivia: This is the first film of nine that Spencer and Hepburn appeared together. They fell in love during the shooting of this film.
Jack's Revenge
More Woman of the Year trivia
More Bambi trivia
Trivia: The cartoon reveals for the first time Donald Duck's middle name - Fauntleroy. You can see this on Donald's "Order to Report for Induction" form on the title screen.
More Donald Gets Drafted trivia
More The Impatient Patient trivia
Trivia: Even though Greer Garson plays Richard Ney's mother in the movie, she was only 12 years older than him.
More Mrs. Miniver trivia
Trivia: Even though the Ghost of Frankenstein is the title character, he has only two minutes of screen time.
More The Ghost of Frankenstein trivia
More Yankee Doodle Dandy trivia
Trivia: Director Alfred Hitchcock has a cameo role in this film - he is seen standing in front of Cut Rate Drugs where Barry Kane is taken upon arrival in New York City.
More Saboteur trivia
Join the mailing list
Separate from membership, this is to get updates about mistakes in recent releases. Addresses are not passed on to any third party, and are used solely for direct communication from this site. You can unsubscribe at any time.