Best movie mistakes of 1921
Please vote as you browse around to help the best rise to the top.
More Lady Hamilton mistakes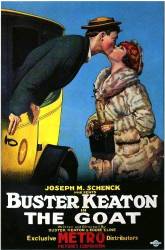 Continuity mistake: Buster Keaton drops his coat on the sidewalk in front of a light post. When he returns for it in the next shot, the coat has moved and wrapped itself around the pole.
Jean G
More The Goat mistakes
Continuity mistake: After the Tramp has found the Kid as a baby, he sits down by a drain and contemplates dropping the baby in. He puts his cane alongside him, so that it is at right-angles to the pavement (pointing towards the camera). The shot changes, and suddenly it is now parallel with the pavement.
Andrew Upton
More The Kid mistakes
Join the mailing list
Separate from membership, this is to get updates about mistakes in recent releases. Addresses are not passed on to any third party, and are used solely for direct communication from this site. You can unsubscribe at any time.