Best war movie mistakes of 1997
Please vote as you browse around to help the best rise to the top.
Visible crew/equipment: The camera searches for Dora whilst Guido plays music through the open window. In her room, you can easily see a cable (from a microphone or a spotlight?) on the left side of the screen. (01:42:00)
More Life is Beautiful mistakes
Visible crew/equipment: When Brad Pitt is taken prisoner by the English, he tries to escape and is thrown in prison. As the camera turns back to the door, the shadow of a microphone is visible left to the door.
More Seven Years in Tibet mistakes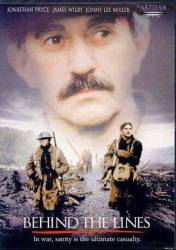 Continuity mistake: In the scene with the electric shock treatment, Dr Yealland's shirt switches from army khaki to a purplish colour and back again several times.
More Regeneration mistakes
Visible crew/equipment: While Teddy Roosevelt is gathering information on casualties in the first battle, a microphone pops into the shot at the lower left.
Jean G
More Rough Riders mistakes
Plot hole: Jennifer Ehle gets a note from her husband, who is a prisoner in the men's camp a few miles away, saying, 'We're escaping on Sunday night. See you in Sydney.' So, even though this note is going to be passed via several people, any of whom might betray him, not only does he explicitly say he plans to escape, but even when he's going to do it. No wonder he gets caught.
More Paradise Road mistakes
Join the mailing list
Addresses are not passed on to any third party, and are used solely for direct communication from this site. You can unsubscribe at any time.