Other mistake: After the great fire scene there is a raccoon that drags her baby to shore and begins cleaning it. A few seconds later the baby has jumped across to the other side of his father and siblings, but the mother does not stop licking.
More Bambi mistakes
Continuity mistake: In the final scenes at the airport, when Rick is talking to Major Strasser, the epaulettes on Strasser's shoulders alternately appear and disappear. (01:40:05)
More Casablanca mistakes
Continuity mistake: Near the start, when the kid is holding the card of Babe Ruth in his hand, the position of his fingers on the card changes between shots.
More The Pride of the Yankees mistakes
Continuity mistake: When Woody has the landing gear lowered on the burning airliner, only the right main gear comes down. When Pappy warns him that the other gear isn't down, he pulls up and goes around. As the camera pans over the plane, it shows the left gear down, and the right up. Then when Woody retracts the gear, once again the right one is down.
More Flying Tigers mistakes
Continuity mistake: After their first number, Ted and Jim are in their dressing room, Jim is buttoning his left cuff and then pulls down his right sleeve. In the next shot, he does this again.
More Holiday Inn mistakes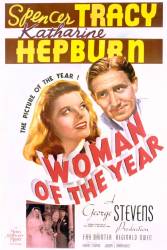 Continuity mistake: When Spencer Tracy takes Katharine Hepburn to the baseball game (about 20 minutes into the film), several plays supposedly from that game are shown. Some of the plays take place on a diamond that has a well manicured dirt path from the pitchers mound to home plate, while others take place on a diamond with an all grass infield and no path.
More Woman of the Year mistakes
Factual error: Orville says that he born on September 13, 1913, a Friday. That was actually a Saturday. (00:46:10)
More Road to Morocco mistakes
Visible crew/equipment: In the final musical number "Strictly off the Record", you can clearly see the shadow of the microphone boom during part of the number.
More Yankee Doodle Dandy mistakes
Continuity mistake: When Reginald Owen who is a British agent posing as a German hits a German Captain on the head the German doesn't have a hat on.When he pushes the German out of the car when the body falls out it has a hat on. (01:31:45)
More Reunion in France mistakes
Continuity mistake: Robert Cummings is talking to a Viennese doctor. The doctor lights a match for his pipe. Then, in the next shot, there is no match.
More Kings Row mistakes