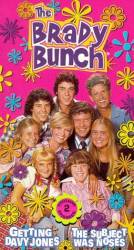 Other mistake: The scene where Alice is giving Tiger a bath was the same one used in "Katchoo Katchoo", albeit with some audio dubbing thrown in, like when Alice complains about the floor getting wet. (00:04:05)
Jeff Swanson
Other mistake: A final contest is given for control of "green stamps" with all the kids building a "House of Cards." Whomever causes the cards to fall will be the losers. All is going well until Tiger comes in and knocks into Greg and causes him to bump the table and knock over the cards. If you watch closely at the end of the scene, when all the dialog is finished, you can see Mike trying to knock down a few remaining cards. However they keep popping up. Probably due to the fact that the cards were glued together to make it easier for the kids to build upon.
Other mistake: Carol grabs a pot holder with her right hand and removes a small cake from the oven. The cake pan is obviously not hot. It starts to tip and Carol steadies it by placing her bare left hand on the underside of the pan.
Join the mailing list
Separate from membership, this is to get updates about mistakes in recent releases. Addresses are not passed on to any third party, and are used solely for direct communication from this site. You can unsubscribe at any time.