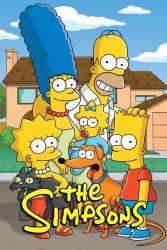 2 corrected entries in Simpson Tide
Corrected entry: During the opening dream sequence on the "Planet of the Donuts", we get our first glimpse of the monster donut that will eat Homer when his shadow looms over Homer. In this shot the shadow is of a "regular" donut, i.e., one with a hole. In the next shot we see that the monster's hole area has teeth and is filled in with black; in other words, its hole is a regular mouth. As such it could not have had light shining through it to make the donut hole in his shadow.
Corrected entry: There were five judges at Homer's court martial, however, four of them walk away, so there should be one left, but all five chairs are empty.
Join the mailing list
Separate from membership, this is to get updates about mistakes in recent releases. Addresses are not passed on to any third party, and are used solely for direct communication from this site. You can unsubscribe at any time.