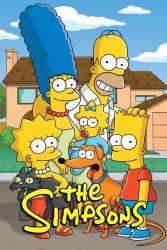 12 mistakes in Bart the Daredevil - chronological order
Continuity mistake: As Milhouse walks up to the TV to turn up the volume, Lewis is nowhere to be seen in a wide shot, but as Milhouse walks back over to the couch you can see Lewis sitting on the floor. (00:02:15)
Hamster
Other mistake: After the boxing match, the boys start "boo-ing" to the TV, and for a few frames Lewis goes from black to yellow, then to black, causing a flashing effect. (00:02:45)
Hamster
Continuity mistake: When the family is talking at the dinner table about going to see Truckasaurus, the amount of food on everyone's plate continually changes between shots. (00:03:40 - 00:04:25)
Hamster
Continuity mistake: When at the dinner table, Marge tells Homer and Bart that they can go to see Truck-o-saurus. In one shot Bart has his hands on the dinner table, but in the next shot his arms are by his side. (00:04:20)
Hamster
Continuity mistake: When Homer is driving to Truckasaurus there is a wide shot of the road with two cars on it, but in the next side shot of the road, the road has loads more cars on it. (00:06:30)
Hamster
Audio problem: When Bart is attempting to skate over Homer's car with his friends watching, Milhouse says 'You're crazy Bart.' but his mouth never moves. (00:10:55)
Hamster
Continuity mistake: When Bart attempts to skate over Homer's car, his three mates are watching. Between shots they change from standing on the driveway to standing on the pavement. (00:10:55)
Hamster
Continuity mistake: When Bart skates towards Homer's car, attempting to skate over it, the distance between the car and Bart changes between shots. (00:11:00)
Hamster
Continuity mistake: When Bart falls off his skateboard after attempting to skate over Homer's car, as the shot zooms out you can see his board is nowhere to be seen. (00:11:05)
Hamster
Continuity mistake: When Homer falls down the gorge, the medics lift him up on a bungee and to the top of the cliff. Between shots the edge of the cliff changes from green grass to brown rock. (00:20:05)
Hamster
Continuity mistake: The guardrail at the Springfield Gorge keeps changing between shots when Bart is about to make his big jump; in the first wide shot there is a short rail opposite the "stone ramp." Then in the Bart-POV shot from atop the ramp, the rail is much longer, and the parking lot and picnic area behind it have disappeared. And when Homer is actually jumping the gorge, the rail disappears altogether.
Audio problem: At the gorge, Nelson says, "Where is he? I thought he said noon!" But Milhouse's mouth is also accidentally lip synced to Nelson's dialogue.
Join the mailing list
Separate from membership, this is to get updates about mistakes in recent releases. Addresses are not passed on to any third party, and are used solely for direct communication from this site. You can unsubscribe at any time.