A Paige from the Past - S4-E10
Factual error: On the wall of Paige's bedroom when she was a teenager is a Metallica poster for "Garage Inc.", a CD not released until 1998 although Piper later says that Paige has gone back to 1994.
00:16:05
Continuity mistake: During Prue's funeral when the demonic bounty hunters attack, one gets thrown into some chairs, which knocks some down. When we see the chairs again in another shot the ones left standing and the ones knocked down have changed.
00:13:25
Revealing mistake: In the beginning of the episode, Yenlo and Anling are fighting with swords. After Yenlo says, "I'm going to kill him, Anling. And then I'm going to kill you," Anling stabs him with her sword. Yenlos' wound is very bloody, but there is no blood on Anling's sword at all.
00:04:25
Jason Hoffman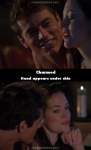 Continuity mistake: When Paige is telling Glen the evil enchantress story, her hand suddenly appears under her chin.
00:01:15
Cubs Fan
We're Off to See the Wizard - S4-E19
Continuity mistake: When Leo arrives to tell the sisters about the wizard, Phoebe's hands change position between shots.
00:29:55
Cubs Fan
Continuity mistake: When Phoebe tries talking to Emma about Belthazor, Emma's hands are folded in front of her, holding her sweater closed. In the following shot when Emma turns around, her arms are now down by her sides, with her sweater open.
00:31:10
Cubs Fan
Join the mailing list
Addresses are not passed on to any third party, and are used solely for direct communication from this site. You can unsubscribe at any time.