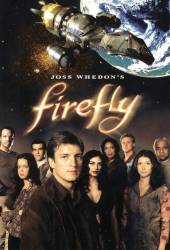 Question: On the back of the complete series DVD I just purchased, it says there are 14 episodes plus 3 unaired ones. The episode guide only lists 15 episodes (counting both parts of Serenity). Is this a typo or is there something I'm missing?
Brad
Question: Regarding this question and answer: "In some scenes, why do the Serenity crew members speak Chinese? [One of the premises of the show is that the two major Earth societies that survived, and ultimately merged, were the Chinese and Americans. As a result the common language includes much Chinese. Clothing, signage, and building designs also have a heavy Chinese influence.] Answered by MovieGuy." Survived what?
OneHappyHusky
Question: I've noticed that on the show, people use "gorram" a lot. Is that phrase used as a euphemism for "God damn"?
Cubs Fan
Question: I've never seen the show myself, but I was wondering what kind of a name "Inara Serra" is. I'm assuming Inara is of Portuguese origin, but mostly because the actress was born in Brazil. Can someone please help me with this?
Join the mailing list
Separate from membership, this is to get updates about mistakes in recent releases. Addresses are not passed on to any third party, and are used solely for direct communication from this site. You can unsubscribe at any time.