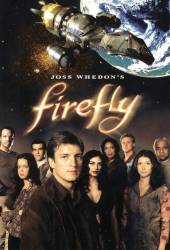 2 mistakes in Serenity (2)
Deliberate mistake: After the Crazy Ivan, where they escape from the Reaver ship, the shot of Mal, Wash and Zoe celebrating on the bridge. Wash has his hands out in front of him like he's still holding the stick, but there's nothing in his hands. In the commentary, Joss Whedon mentions that, in order to get the shot right, they had to move the seat back far enough that Alan Tudyk couldn't reach the controls, so they instructed him to mime it.
Continuity mistake: Just prior to the crazy Ivan, Kaylee tells Jayne to cut the hydraulics to the port engine, yet it is the port engine which rotates to perform the maneuver. Also, the cut scenes of the engine thrusting just prior to and after the crazy Ivan are reversed.
Join the mailing list
Separate from membership, this is to get updates about mistakes in recent releases. Addresses are not passed on to any third party, and are used solely for direct communication from this site. You can unsubscribe at any time.