Martin Brody: I think we've got another shark problem.
Mayor Larry Vaughn: Are you serious?
Martin Brody: You bet I'm serious.
More Jaws 2 quotes
Melissa: Well I think I've had just about enough of this, thank you very much. I'll think I'll take my things and GET OUT. If you'll pull over to the side, I'm sure I can hitch a ride very easily... Weren't you listening to me? I said I'm ready to get out.
Rubber Duck: You want out? We're being chased. You want out? Jump.
Melissa: You want to add the Mann Act to your collection?
Rubber Duck: Mann Act's for 18 year olds, not someone who's seen the better side of thirty.
More Convoy quotes
More Superman quotes
Maj. Schroeder: Ah, tell me what has all this to do with that, uh, suitcase case you keep looking at?
Mallory: Well, that suitcase is full of our penicillin.
Maj. Schroeder: Oh, indeed. Perhaps I could see some it?
Mallory: Certainly, Major. Open it Miller.
Miller: You can't do that here, sir. You'll ruin the lot. You know perfectly well that any contamination will destroy it. It's got to be opened under laboratory conditions.
More Force 10 from Navarone quotes
Brad Crane: I have cardio-pep in my van.
Capt. Helena Anderson: Cardio-pep? I've just read an article in the medical journal about Cardio-pep! By some scientist named... Crane, I think.
More The Swarm quotes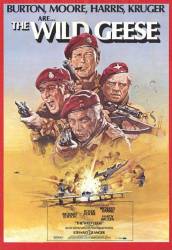 RSM Sandy Young: Sir! With respect, you can stick the money up your arse that's all I can offer you sir. - I love what I do, I also love these grubby, thickheaded men I trained - you most of all and I expect to be with them and with you because I'm needed. You want to see a real revolution? Try and stop me.
More The Wild Geese quotes
The Emperor: For the space of three minutes, every molecule on this planet will be immobilized. But after the third minute, the green ray loses it's power. Time will flow once more and everything will explode.
Simon: Three minutes are enough, father.
More Starcrash quotes
More Game of Death quotes
More Hooper quotes
More Snake in the Eagle's Shadow quotes
More Every Which Way But Loose quotes