Best TV continuity mistakes of 1969
Please vote as you browse around to help the best rise to the top.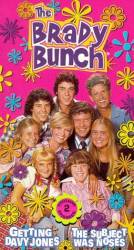 Continuity mistake: The last line of Alice's recipe, written on the chalkboard, changes from "3 egg yolk" to "3 egg yolks" and back again. (00:06:15)
Jeff Swanson
More The Brady Bunch continuity mistakes
Continuity mistake: Scooby finds a clump of ape hair stuck in the wine cask. It cuts to the gang, then back to the cask as they walk up and suddenly the clump of hair is twice as thick. (00:16:45)
Quantom X
More Scooby-Doo, Where Are You! continuity mistakes
Continuity mistake: In the Marriage Counselor sketch, Deidre Pewty is wearing such a tiny miniskirt that when she sits we see she is wearing white knickers. When she undresses behind the screen she throws a pair of black knickers out.
More Monty Python's Flying Circus continuity mistakes
Continuity mistake: When Dum-Dum cuts the rope releasing Chug-a-Boom from the balloon, we cut to the car and you can see Clyde and Dum-Dum are surrounded by the rest of the Ant Hill Mob, but when we see the two in the next shot, the other members are nowhere to be seen.
More The Perils of Penelope Pitstop continuity mistakes
Continuity mistake: At the end when Stan comes out of the manager's office to explain what happened when the bus got stuck under the low bridge, Stan and Jack drive out in the same bus that hit the bridge which was badly damaged but now is suddenly repaired.
More On the Buses continuity mistakes
Continuity mistake: When Nguyen falls of a building, breaking his leg he is taken to the hospital. Laying in a bed adjacent to him is another patient. The next shot is a close up of Nguyen. When the shot goes to a far shot Nguyen is alone in his room, the other patient and his bed is gone. (00:41:10 - 00:41:45)
Regulus
More Marcus Welby, M.D. continuity mistakes
Join the mailing list
Separate from membership, this is to get updates about mistakes in recent releases. Addresses are not passed on to any third party, and are used solely for direct communication from this site. You can unsubscribe at any time.