Best TV mistake pictures of 1965
Please vote as you browse around to help the best rise to the top.
The Night of Miguelito's Revenge - S4-E12
Revealing mistake: At the beginning of the episode, as Jim West walks away from the newsstand vendor and closes the magazine, a 1967 ad for DieHard batteries ("The DieHard Fights the Common Cold") can be seen on the right-hand page of the prop magazine, in a modern sans serif font.
JohnJohnD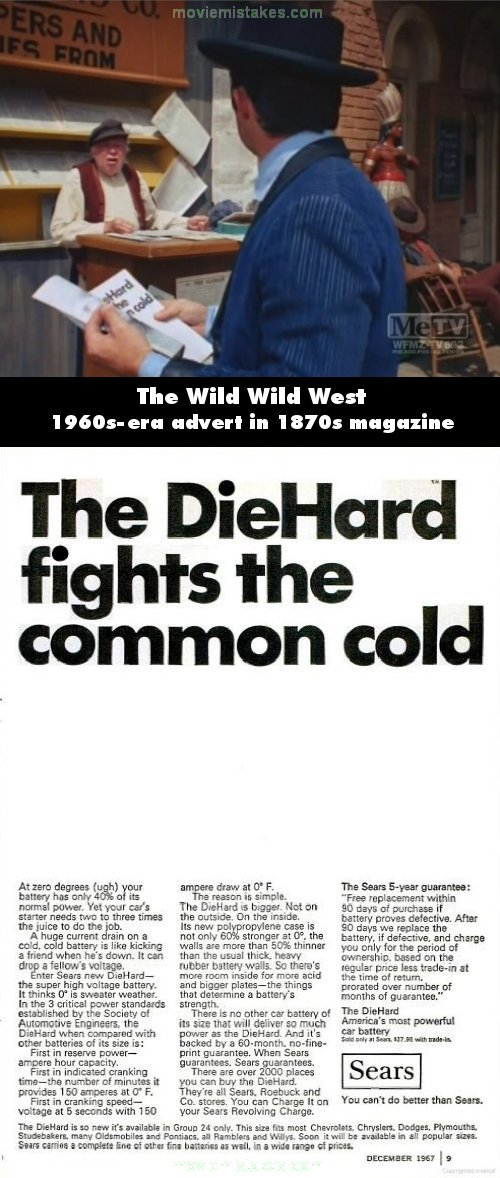 More The Wild Wild West mistake pictures
Is There a Doctor in the House? - S4-E18
Visible crew/equipment: After Tony and Roger help General Peterson to the couch to lie down, when they leave the office we can see the actors' tape marks on the floor beside the couch.
Super Grover
More I Dream of Jeannie mistake pictures
Visit to a Hostile Planet - S3-E2
Continuity mistake: When the guy shoots the Robinson Robot it leaves a big bullet hole on the front. In the next shot we see the Robinson Robot turning around and the bullet hole is gone.
More Lost in Space mistake pictures
Continuity mistake: When Max challenges the Shark to a game of pool, Max's hand holding his cigarette jumps to the tip of his pool cue, and a chalking cube appears in his hand from nowhere. (00:19:00)
Cubs Fan
More Get Smart mistake pictures
Join the mailing list
Separate from membership, this is to get updates about mistakes in recent releases. Addresses are not passed on to any third party, and are used solely for direct communication from this site. You can unsubscribe at any time.