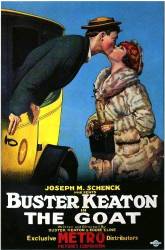 Continuity mistake: Buster Keaton drops his coat on the sidewalk in front of a light post. When he returns for it in the next shot, the coat has moved and wrapped itself around the pole.
Jean G
More The Goat mistakes
Revealing mistake: Harold Lloyd is trying to cross a busy intersection. Apparently the scene was double-exposed. As one car passes by, it appears translucent and the streetcar tracks can be seen through it.
Steven Lee
More I Do mistakes